Office Solutions
Catering Office Solutions
We know how to make your business lunches, events or meetings ple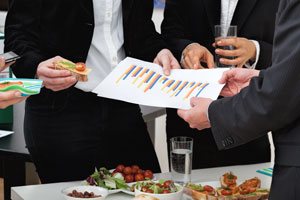 asurable when it comes to food. With so many delicious options we ensure that you are entirely spoilt for choice when you decided to hire our catering services.
Deli, canapés, savoury and sweet snacks, salads, real quality crisps or potato chips, desserts, fruit, beverages and much more are on offer so do contact us to register. You can then browse our fully customisable online menus or simply opt for one of our set menus.
Starters and Savoury
We have tasty little starters such as stuffed olives, peppers, samosas and even miniature options like hand-made scotch eggs and chicken yakatori. Our delicious food is very high quality and freshly prepared; unlike most food found at supermarkets or cheap sandwich shops. Choose also from chorizo, salamis and European meats and cheeses too.
Light Lunches
For the health conscious, why not try our salads instead of a more heavy meal for lunch. We create salads, fresh pasta and lighter snacks from scratch and your delegates will delight at the wonderful taste sensations that our catering specialists can come up with.
Bread
Our bread isnt supermarket bread, it's locally baked and freshly delivered to us every morning
Desserts and Sweet Foods
Would you perhaps like basic fresh fruit or do you prefer exotic fruits that are responsibly sourced from expert suppliers? Our team of catering experts can put together fruit baskets or fruit salads that are full of flavour and perfect on their own for your guests to pick from at will.
Cold Beverages
We can supply any type of cold drinks depending on your tastes and the amount of choice that you wish to present to your delegates. From fizzy soft drinks to, pure fruit drinks to bottles of flavoured water, we have a huge list of beverages to choose from.
Hot Beverages
Expertly sourced coffee beans from our specialist suppliers who roast them expertly – our qualified in-house Barista will prepare exquisitely tasting coffee at a strength that suits your taste buds. Espresso, fine teas from all over the world, filter and cafetiere coffee, instant and organic options. Whichever you prefer we have it all and your drinks will be delivered hot and ready to pour.
If you would like to find out more, please contact us directly or use our online contact form for a prompt response. Expert office catering solutions in the West Midlands like ours cannot be found elsewhere.