Vending Machines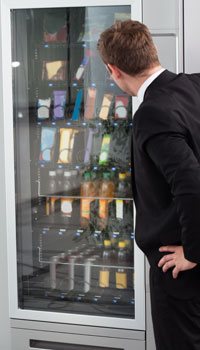 Fresh food vending machine, snack vending, hot drinks vending and cold drinks vending. Slater and Reeves are the only independent Midlands Vending & Fresh food operator able to offer freshly made food. Prepared daily on our purpose built premises. Contact us for details on a free food trial.
Here at Slater & Reeves we know only too well how important it can be to have convenient access for your colleagues to get drinks and snacks. Keeping them well fuelled can mean a much more productive workforce and we have vending solutions to suit every office. We are also the only independant company in the West Midlands able to offer fresh food made daily in house for our vending machines.
We can supply a number of vending machines that have been selected for their durability and because we use modern state of the art machines,minimal maintenance is required.We can provide you with the products and ingredients in which to place into the machines should you require or we can offer operated a fully operated service, should it be necessary.
Vending and Snack Machines West Midlands
We're an independent company with years of experience in the food and vending industry. You can rent or lease a vending machine or snack machine from us and can offer a full service and repair service should it be required. The machines are designed to showcase all of the leading brands that you would expect to find and we are not tied to any one brand of vending machine or product.
Our team have vast experience in the supply of the best possible vending solutions in the region.
To find out more or if you would like to have an informal discussion about the vending solutions we can offer, please contact us for a prompt response 0330 900 0330.